Hello, ready for the future?

Microsoft Partner of the Year

Trust. Curiosity. Passion.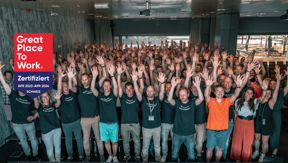 Great Place To Work
2 / 4
Create a digital work environment with Microsoft Services that drives your business and enables a great customer experience.
More about our Successes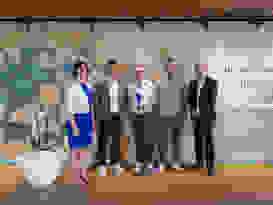 3 / 4
We go the extra mile, create real added value and work together as a team to ensure our customers' success.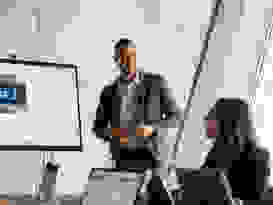 4 / 4
We are passionate about creating a workplace that provides space for unique experiences, team spirit, growth, development and passion.
Get to know our culture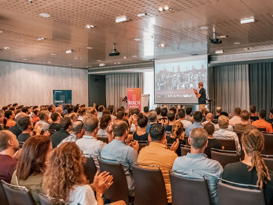 Intelligent use of technology enables us to create exceptional employee and customer experiences. In doing so, we create a culture in which fantastic people can flourish far beyond their own limits. This is essential for customers who want to

transform the future

in entire industries.
BOBST Success Story
«isolutions makes us more decisive and courageous.»
Location-independent collaboration is of high importance for the company. Therefore, BOBST decided to transform to the Cloud and Microsoft 365, especially Microsoft Teams, as a central and integrated collaboration platform.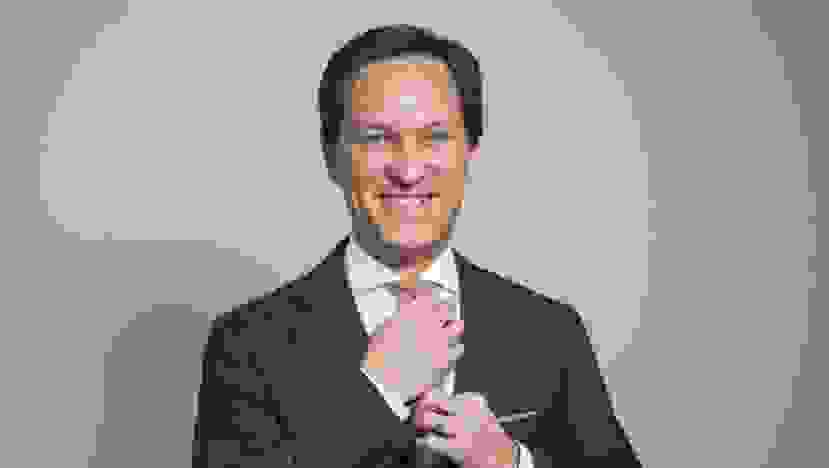 Jean-Pascal Bobst
CEO | BOBST Group AG
V-ZUG Success Story
«isolutions has helped us develop our CRM on a global scale. The cooperation was always proactive.»
In order to be able to react to the constantly growing complexity in international business and to create a standardization, V-ZUG has opted for a CRM solution based on Microsoft Dynamics 365. This CRM enables international planning to be coordinated with over 1'500 trading partners worldwide.


Jean-Luc Bühler
Head Development Markets | V-ZUG
From cultural change to technological implementation -

we advise you

.
We advise you for the future
---
Together we are transforming the future of your industry. We help you achieve the best employee and customer experience.
Enterprise Cloud IT - Strategy, Implementation, Operations
---
From strategy development to migration and the transformation of your IT department – as an IT partner, we help you make your business digital and secure. We'll provide you with advice and training, and can also provide or manage your IT as Support as a Service. Our experts can help you with IT strategies and planning.
Protection from Cyber Attacks, Hackers, Breaches and Malware
---
From identifying risks to creating a secure workplace, protecting your data and security monitoring – we help you identify your cyber risks, create and implement a security concept, and take care of security operations.
Increase the Productivity and Satisfaction of Employees
---
Employees are the key drivers of a company's success. Studies show that companies with an outstanding employee experience are three times more profitable. Want to boost your performance? Then empower your employees. Not sure how? We are happy to advise you.
Respond more specifically and quickly to Customer Needs
---
Boost your performance and create a customer experience that sets you apart from your competitors. Gain a complete overview of your customers through the integration of marketing, sales and service processes in a central system. This helps you to respond more quickly and effectively to customer needs and achieve higher customer satisfaction.
Business Solutions for Applications, Data and AI
---
We show you how you can get more out of your data and applications by using cloud technologies and cutting-edge software development, while reducing the risk of failures and security vulnerabilities
What sets us apart
«We live an inspiring culture and shape the future.»
Since 1999, isolutions has stood for innovation, enthusiasm, credibility and curiosity. As a leading Microsoft partner in Switzerland, we create digital working environments for our customers that foster creativity, enable intelligent collaboration and create positive customer experiences.


About us
Our #Culture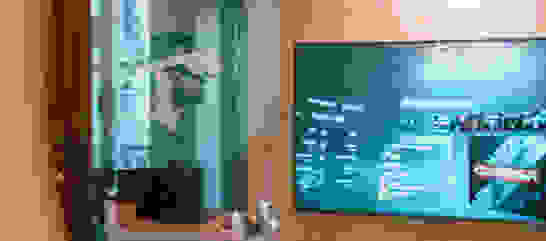 We always look to the Future
Together, we can change tomorrow's future today. #weshapethefuture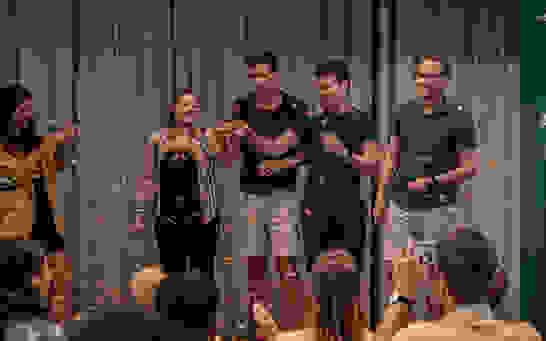 People first
We attach great importance to the individual skills of each employee. Only together can we create great things! #bettertogether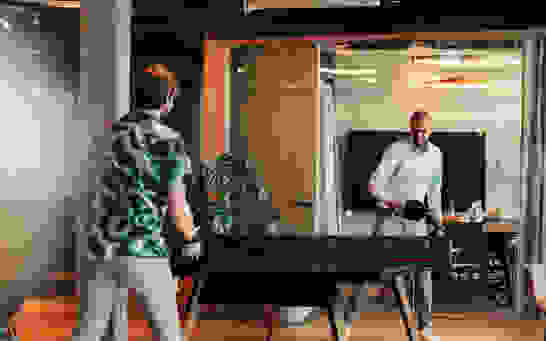 Three cheers for Team Spirit
We work together and for one another. Everyone has their own responsibilities and brings their own personality and ability to the job. But there's always time for a game of ping-pong or an after-work beer. #teamwork

Events are in our DNA
Hard work should be rewarded! We always start the year with our SnowBootCamp, end the summer with a summer party and round off the year with a big Christmas party. But we also celebrate our successes throughout the year with quarterly parties, happenings and get-togethers – with the team and with clients. #celebratesuccesstogether #morefuntogether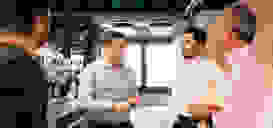 Flat Hierarchies, open Feedback and corporate Culture
We believe in the skills and abilities of every employee. With us, it is not about climbing the career ladder – specialist and management skills are valued and rewarded equally. With us, you can get involved and make a difference. Exchange, open communication and feedback are all part of our corporate culture and are actively put into practice.
So we can achieve success together.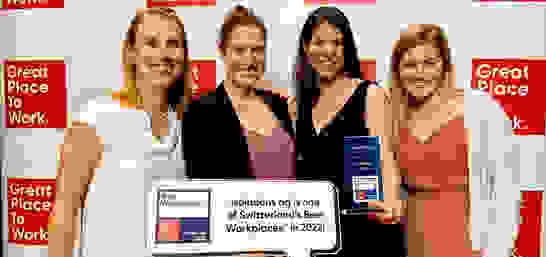 Great Place to Work
We are proud to bear the official «Great Place to Work» award. Our offices in Berne, Zurich, Basel and Barcelona are all in the best locations and are modern and generously equipped.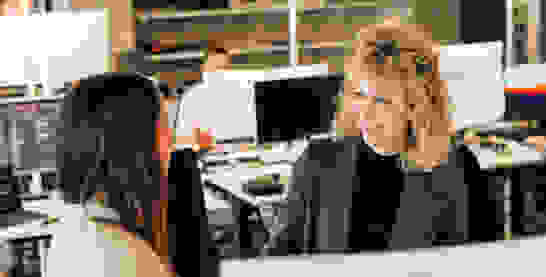 Employee Promotion and Development
Not only do we shape the future of our customers, we also offer our employees development opportunities – individually tailored to their personal needs. #shapeyourcareer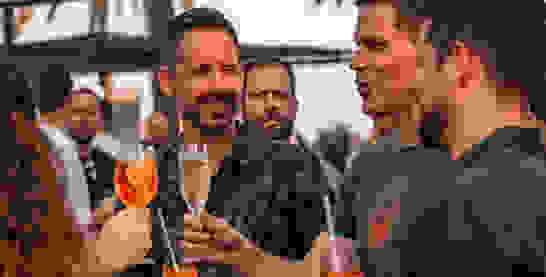 Work-Life-Balance, Home Office and Workation
Wie arbeitest du gerne? Wir glauben an ein hybrides Modell für maximale Effizienz, darum kannst du bei uns flexibel arbeiten. Du willst Arbeit und Ferien auch schon Mal kombinieren? Egal ob im isolutions Office, von zuhause oder Workation - wir machen es möglich. Denn eine gesunde Work-Life-Balance ist uns wichtig! #wecareaboutyou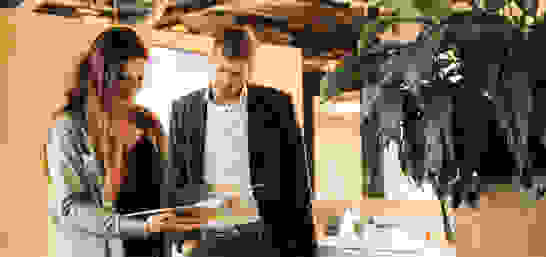 + 1 Week of Corporate Social Responsibility
Give something back to the world and your fellow human beings! We want to encourage our employees to do good. That's why we give every employee an extra week of leave for social commitments. #getinvolved #socialresponsibility #charity
Are you inspired by our culture?
Want to shape the future of our customers?
Become part of our crew.