Welcome to one of the largest owner-managed digital business enablers
Who we are
Launched from an underground shelter by three visionary students from the Bernese Oberland, isolutions is the largest dedicated Microsoft one-stop shop in Switzerland, guiding companies into their digital future since 1999. Technology is used in the interests of people in such a way as to create added value and positively change the corporate culture – fully in the spirit of #domorewithless. 
Backed by over 200 passionate minds ranging from business and technical consultants to change makers, software developers, architects, and cloud natives, we are driven by the vision and goals of our customers. We rely on honest communication, open discussion and long-term collaboration with our customers to advance the vision of tomorrow and the symbiosis between people and technology, and to do so in the here and now. 
The most important Driver of Success is Culture.

The most important Driver of Success is

Culture

.
Our Vision and Mission
Our Vision – why we are here
As visionaries, we want to conquer the world. We want to be the very best in achieving the goals and shaping the future of our customers. The focus is on you and your corporate goals. The Infinity Loop© is the illustration of our vision. The associated KPIs are the goals, needs and day-to-day issues of our customers. We are committed to ensuring that you, as our customer, achieve your goals.  
Let yourself be inspired and join us on our journey to turn the vision into reality and positively shape the future of our customers and employees! Skilled people as drivers of the future.  


#1 in creating the best Employee and Customer Experience
«The future is forged in courage!»
«We are passionate about Switzerland as a place of industriousness and innovation and about companies that want to shape the future of their industries. By using digitalization in an intelligent way, we help these companies to increase their competitiveness and achieve their business goals.»

Josua Regez
CEO & Co-Founder | isolutions
«We work together to make the impossible possible.»
«Our recipe for success is based on a simple rule of three: empowered employees lead to happy customers, who in turn attract new customers. This principle is lived in our corporate culture - as #passion. We want to understand companies and their leaders and make them even more successful through the strategic use of digital tools. This enables them to increase their competitiveness and resilience. At the beginning of this journey are employees who burn for this mission - these define the success of the future.»
Benjamin Regez
Deputy CEO & Co-Founder | isolutions
«Explore. Create. Discover.»
«New technologies offer unbelievable potential for overhauling existing business models or developing new ones. The exciting challenge in this change process is the clever combination of modern technology, entrepreneurial creativity and openness to unexpected results. Our passion for technology and change makes us the right partner for ensuring the long-term business success of our customers.«

Pascal Grossniklaus
Partner & Co-Founder | isolutions
Team
At isolutions People are in the Focus

Conquering the World through Passion
We believe through and through that people and their satisfaction are the key to a worthwhile future. A future where we overcome challenges together and achieve extraordinary things. And where we put our heart and soul into doing so.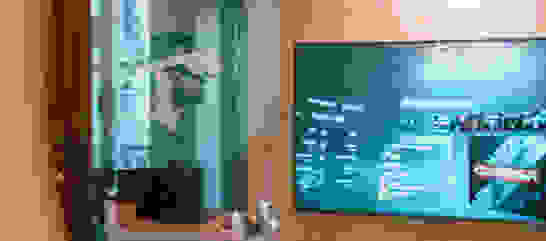 We are always looking to the Future
In partnership, we can change tomorrow's future today. Let's shape the future – together.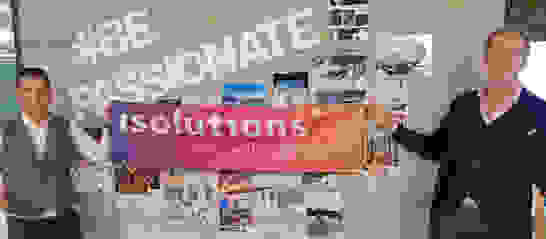 Live your #Passion
Whether you are an avid mountain climber, a skater, a philosopher, an illustrator, an artist, a yoga instructor or a band member – we create space for living dreams and flexible workspaces. After all, we believe that only skilled and happy employees can inspire our customers.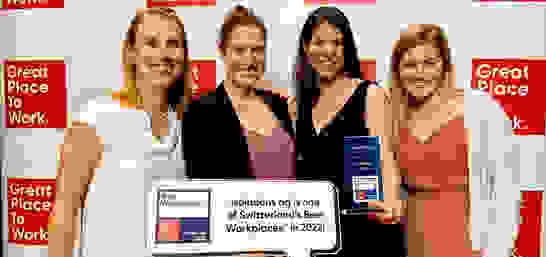 Great Place to Work
We are immensely proud to say that we have been officially named a «Great Place to Work». Our offices in Bern, Basel, Zurich and Barcelona are all in the best locations and are fitted with modern and spacious facilities.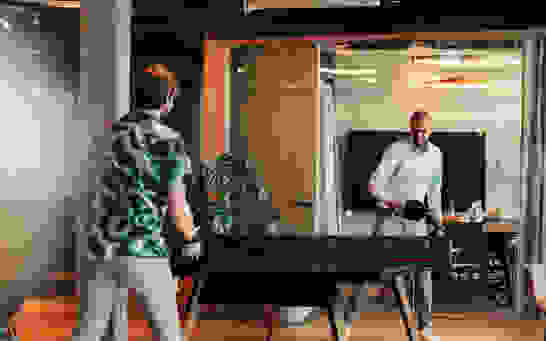 Three cheers for Team Spirit
We work together and for one another. Everyone has their own responsibilities and brings their own personality and ability to the job. But there's always time for a game of ping-pong or an after-work beer. #teamwork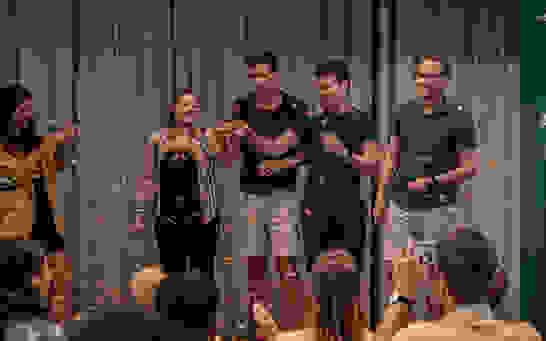 People first
We attach great importance to the individual skills of each employee. Only together can we create great things!

Get inspired by our Events
Hard work should be rewarded! We always start the year with our annual kick-off, end the summer with a summer party and round off the year with a big Christmas party. But we also celebrate our successes throughout the year with quarterly parties, happenings and get-togethers – with the team and with clients. #celebratesuccesstogether #morefuntogether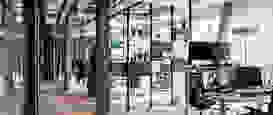 Central Locations
All of our offices – Bern, Zurich, Basel and Barcelona – are centrally located, so they are well connected and have good transport links. #stayconnected #whereveryouare
Culture
Our Values and what we stand for
We work with people and always provide support where they need it. Everyone can count on us to listen actively, understand expectations, ask discerning questions and keep our promises.
Our customers see us as well prepared, know we can put ourselves in their shoes, and appreciate that we show a great amount of interest. We solve challenges creatively and quickly as a team. We're already thinking about tomorrow's trends today.
Our team's enthusiasm is infectious and spreads to our customers – it also enables us to find solutions that exceed expectations and create added value. We love what we do.
As an owner-managed company, we have put people first for over 20 years. The resulting corporate culture inspires us and our customers. Every two years, the owners rotate the position of CEO among themselves. This keeps us dynamic, agile and open to new ideas.
A tool is seldom the solution. Only people generate added value. We connect technology, people and culture in such a way that digitalization creates added value and is fun.
As the largest independent Microsoft Partner in Switzerland, we refine all Microsoft services in such a way that our customers' business objectives can be achieved in a cost-effective manner.
History
The origin of isolutions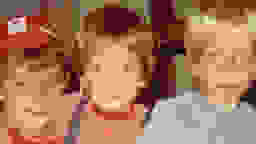 1999: Amidst the gold-rush mood of the dotcom boom, two brothers and their childhood friend found the IT company isolutions in an underground shelter in Unterseen, Switzerland. The three young men are Pascal Grossniklaus, Benjamin and his brother Josua Regez.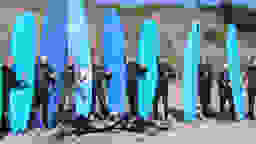 2004: Social networks are celebrating their breakthrough. Using their contacts, the three entrepreneurs travel straight to Silicon Valley, where the start-up miaplaza is founded together with a US team. It's a taste of huge success but Yelp ultimately won the race. By this point, however, isolutions now employs 15 people.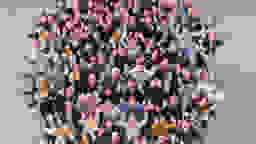 2011: isolutions continues to grow and acquires customers beyond the borders of Bern. To accommodate this growth, an office is opened in the center of Zurich and market activities in the greater Zurich area are intensified.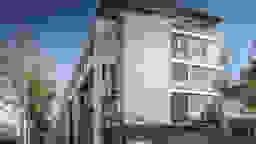 2013: The Swiss Financial Market Supervisory Authority (FINMA) selects isolutions as its strategic partner for the operation and further development of its complex business application consisting of SharePoint and Dynamics 365, with a volume of 6.8 million CHF.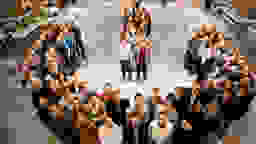 2017: isolutions now employs more than 100 people and moves into its new, 1,300-m2 office at PostParc Bern. At the same time, a new office is opened on Güterstrasse in Basel. This enables further growth and allows the isolutions #culture to flourish.
2017: The strategic partnership with FINMA for SharePoint and Dynamics 365 is renewed for a further seven years at a value of 18.2 million CHF. 
2018: Swiss Federal Railways (SBB) selects isolutions as its strategic partner for the workplace of its 35'000 workstations. The entire workplace is to be transferred to the Microsoft Cloud. In addition to technical support, SSB's HR commissions isolutions to coach and train the top 100 SBB managers on the topic of Leadership and Collaboration.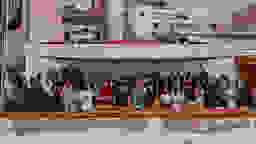 2018: A subsidiary is founded and a new location is opened in the heart of Barcelona. ¡Viva España!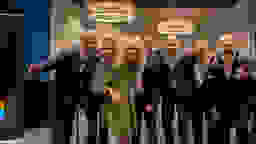 2019: Microsoft names isolutions Swiss Country Partner of the Year! After more than 20 years of Microsoft partnership, we become a leading Microsoft Partner in Switzerland.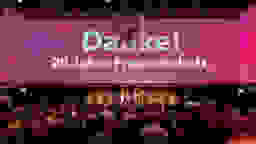 2020: isolutions turns 20 and hosts the biggest party in its history! More than 300 guests enjoy a fantastic party at Aura in Zurich. With more than 140 employees and 250 happy customers, it's time to start the next chapter: isolutions moves into a modern new office in The Circle at Zurich Airport, allowing it to come even closer to Microsoft for the benefit of its customers.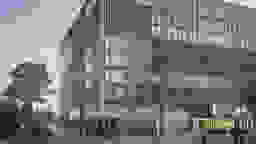 2021: The Swiss Federal Office of Information Technology and Systems awards contracts worth 117 million CHF for the custom development software .NET. isolutions is one of six partners to be awarded the contract and will be able to continue and expand its activities for the federal government for the next five to ten years.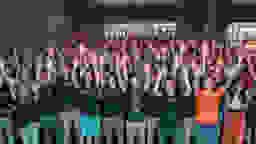 2022: To great excitement, the entire crew met in Mediterranean Barcelona for the first #BeachBootCamp. A dream that had been on everyone's mind since the Barcelona office opened finally came true. Innovative ideas for the future were philosophized, added value for customers was discussed, new friendships were made, and discussions were held across roles and departments.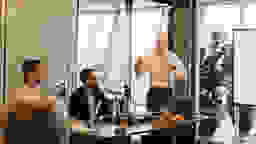 2022: isolutions acquires further customers in WTO proceedings. Consulting, support and further development in the area of M365 for Swissgrid with a value of 5.7 million CHF, operating Microsoft Dynamics 365 for Zurich University of Applied Sciences and becomes a support/service partner for Domestic Services with the federal government, with a value of 37 million CHF.
Why you should join us
We believe in fostering the growth of ourselves and our fellow human beings, rely on valuable feedback and are ambitious. As a result, it's #morethanajob. And it is precisely this passion that makes encounters unforgettable. Collaboration that is both fun and enjoyable. Objectives that are achieved with quality and added value. Let yourself be inspired by us and our culture. #weshapethefuture

isolutions is the Microsoft One-Stop-Shop
Our expert knowledge and extensive practical experience have already earned us several awards from Microsoft:


Certification
ISO 9001 & 27001 Certification
Through our continuous efforts to meet and improve ISO 9001 and 27001 standards, we offer our customers and business partners the highest level of security and trust.

We are looking forward to meeting you.