What does your summer vacation have to do with Customer Journey and Customer Experience?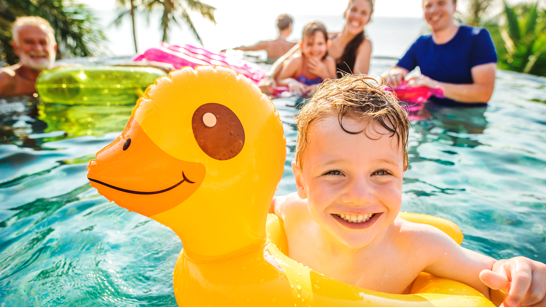 From the customer journey to holistic customer lifecycle management
Now the vacation is getting closer and closer and you are looking forward to your well-deserved time off. The summer vacation is over and what remains are the pictures and memories of it. The two weeks on the beach were soothing and you come back relaxed. After the recreational trip, you get a survey from the tour operator via online evaluation form, where you can give feedback and upload pictures. 
This process reflects the majority of the customer journey. But the customer lifecycle continues and the next question is: Where should we go next year or next time? This is a question that not only travel providers should ask themselves, but all companies - after all, we don't go on vacation just once, or want to meet our customers just once. 
Customer Lifecycle Management

How does the travel agency get you to book with them not just once, but every year?

Customer Lifecycle Management

is the magic word.
Customer Experience
Within the customer lifecycle, there are several customer journeys that a customer can go through. The better the customer experience within these journeys, the more likely you are to return as a loyal customer. That's why it's important to pay attention to a consistent customer experience in the areas of cross-selling and up-selling or in service requests and complaints.
Recognize needs
Let's go back to your summer vacation. Imagine that the hotel you booked for your family vacation has a wonderful childcare area. While you enjoy the quiet time with your partner, the kids are taken care of and amused in the kids club.
What customer wouldn't want the tour operator or solution provider to recognize and accommodate this desire? 
Feedback helps you to improve
Back to your last summer vacation: In the evaluation form, you give the Kids Club a very good rating. Your travel provider sees this and can prepare offers for your next vacation that also include childcare. He has recognized that this is an important factor for you. 
By offering a continuous customer experience throughout the entire customer lifecycle and aligning it with the customer, the provider increases the customer's loyalty and thus also the customer lifetime value.
This applies not only to positive feedback, but also to negative feedback. What if the kids club or the hotel pool were closed during your stay due to a deafening construction site? How would you behave and what would be your expectation from your travel provider?
What is the business model?
Does your company only offer transactional products and then not need customer loyalty? Or do you sell products and services that the customer buys again and again or even develops further with you?
How do you optimize your customer lifecycle management?
Think ahead to the classic AIDA model (Attention, Interest, Desire, Action). How? Perhaps you can extend the model with Phase D (Delivery). To do this, think about what touchpoints (interactions with your company) the customer has with you? What touchpoints do you have in delivering goods or implementing projects where you can make the customer experience positive?
Another phase could be the loyalty point. Can the customer relationship be strengthened after the delivery of your product, service or successful project completion? Do you offer a loyalty program to keep the customer engaged? 
In addition, it's a good idea to recruit customers as testimonials. Develop your customer into a promoter and gain new customers thanks to word-of-mouth. Nothing is more credible than having a customer vouch for your work. In the spirit of our example: try to get and publish reviews from customers. Whether as automated feedback, a reference report or even a keynote speech at one of your events.
The right customer journey for every customer
Do you think about how customer journeys need to be built? Or do you also take into account branches of your customer journey? Always be aware that not every (potential) customer will enter your journey at the same place at the same time. For example, for the one customer who only arrives in the middle of your journey, the initial touchpoint can be exciting for you later. This is where it pays to build in branches. 
From marketing, to sales, to service, there should be clear internal processes that interlock and that your employees know. This clarity and automation can save you a lot of administrative effort. 
Learn from your customers
At the beginning, define metrics with which you want to measure your touchpoints and journeys and analyze them regularly. The defined touchpoints and journeys must be constantly scrutinized and optimized. Listen to your customers, because you will learn the most from them. Dare to ask them for optimization measures. This is the only way you can keep up with today's highly competitive market and inspire your customers. For example, use the Kano model to evaluate your goals and measures. You can find a simple video explaining this model here.
The right tools at the right time
Last but not least, processes, metrics and steps can be supported or even automated by software. What do you need? What is your need? Check what the market offers and analyze the current trends and possibilities. Or contact a software provider. There is a solution for almost everything today. 
A partner for automation and service solutions can help you to find the right functions and features for your CRM project. A good software partner will inform you about current technologies and trends and integrate the right solution for you. These tools and features bring new opportunities and can help you improve your customer lifecycle management. However, these tools will only add value to your business if you are aware of what you need and what the goal of your journey is.
Always think about where your departure airport is and where your vacation destination is. Only those who plan the trip will arrive happily at their destination and enjoy their vacation.
We are happy to help you
First, our business consultants analyze your initial situation using the isolutions CX Framework. Together with you, our specialists then develop measures for the optimization of your processes and support you in the technical implementation. We advise and support you from the initial situation to implementation.
Want to learn more about the 360° perspective on customer experience? 
Then join our CX Circle on 02.11.2023.