Microsoft Ignite 2023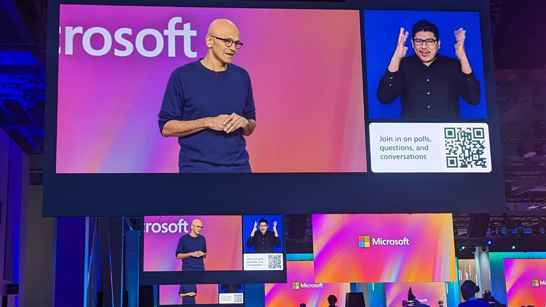 The rise of Generative AI and the role of copilot
The event will showcase the company's latest products, services and technologies, including Microsoft Azure, Microsoft 365 and other enterprise solutions. The conference offers keynotes, technical sessions, workshops and networking opportunities among peers. Microsoft Ignite serves as a platform for product announcements and strategy presentations. As such, it is a central meeting place for all those interested in technology.

As the technology landscape is constantly changing, Microsoft Ignite is an important event to stay up to date, deepen knowledge and gain insights into the future of enterprise and cloud technologies. That's why David Schneider, CTO of isolutions, also took part. We asked him about Microsoft Ignite.
Which topic was the focus of this year's Microsoft Ignite?

The dominant topic was Generative AI and Copilot. Microsoft was announced as «the copilot company». Almost every product gets a copilot that allows conversations with the app.

Microsoft says that generative AI will be ubiquitous in the future. Every interaction with an IT system can also take place via conversation. Microsoft then speaks of multimodality: communication with the AI takes place via text or voice input. An image can also be uploaded as input. The generative AI understands different languages and can switch back and forth fluently. The output can also be text, image or avatar. Ultimately, the AI will also perform routine tasks autonomously. I would like to delegate many steps, such as the expenses process, to the AI.
What exactly is a Microsoft Copilot?

A copilot allows you to have a conversation with the application or the data. Today, we have to interact with the keyboard and mouse the way the computer wants us to. In the future, the computer will adapt to us and understand our words.

The best way to explain this is with 3 examples:
I received a 5-page document from the Spanish tax authorities for a VAT refund. With Microsoft 365 Copilot, I was able to have the document summarized in German. I was also able to ask what amount would be refunded.
With Copilot in Azure, you can query which Azure resources are running in the subscription. You can query the costs or ask Copilot to deploy new resources.
With Copilot for Microsoft Fabric, you can enter complex evaluations as text. Copilot generates Python code that can be executed.
Copilots will change the way we operate an IT system. Especially young professionals or occasional users will benefit greatly.
What specific technologies or announcements caught your attention at Microsoft Ignite?
I am excited about the announcement of GPT4 Turbo with Vision. This model from OpenAI uses not only text as input or output, but also images or videos. It is amazing what details the model recognizes in the images.
How do you apply what you have learned or the inspiration from MSFT Ignite in your daily work and in customer projects?

We are already talking to many customers about the use of Generative AI. For example, to speed up processes, serve customers faster or enable a better employee experience. With the massive innovation that Microsoft has realized in the last 12 months, such projects can be implemented much faster.
How do you assess Microsoft's role with regard to current industry trends and challenges?

Microsoft is in an excellent position. They are making major investments in AI data centers, have developed their own chips and are working together with Nvidia and AMD. This means they have the computing power to run AI models themselves and can also make them available to their customers. A key factor is also the cooperation with OpenAI, which gives Microsoft a lot of tailwind.
Aren't there Generative AI models that are or will be better than those of OpenAI?
Of course, this area is developing very quickly. Customers can also run other models on Azure. For example, a Model as a Service offering has been announced, with which you can also use Llama.
Very exciting. What are you taking away from all the announcements? What did you gain from your visit to Ignite?

As a Microsoft Regional Director, I was able to attend a Pre Day on campus and talk to the product groups. The exchange with the Program Managers and programmers as well as the other Regional Directors and MVPs helps me to better understand the innovations and changes and to see areas of application and the benefits for the end user.