Enterprise Operations
Optimal Operation in the Cloud
Together, we define the areas in which we can offer you additional support during the migration. We use statements of work to adapt the scope of our services to your needs. In this way, we ensure that tasks are clearly divided, interfaces are defined and 24/7 operation is guaranteed.
We operate highly scalable Microsoft Azure and Microsoft 365 environments for our customers. This ensures availability for business-critical applications. We take care of the integration into your existing processes as well as collaboration with your partners. As a multiple Microsoft Partner of the Year in various disciplines, your Microsoft 365 or Azure platform is in the right hands with us.


Services
We will get you smoothly and securely to the Cloud
Operation of Core Resources
We monitor and operate all core components of your cloud infrastructure, such as your Azure subscription, network, storage and Key Vault.
We operate your virtual servers for you in accordance with the statements of work we have developed together.
Operation of Applications
As a managed services partner, we manage your systems up to application level. We also ensure their availability and security.
We monitor all resources and take the necessary measures in the event of deviations.
We always keep an eye on the costs associated with your Azure or Microsoft 365 environment and continuously optimize them in consultation with you.
Our service desk is available to answer any queries you may have and makes sure your queries are dealt with promptly.
Continuous Innovation
Innovation is also a key factor in the field of IT operations. Consistent automation via IaC (infrastructure as code) ensures that changes are traceable at all times and that the staging environments are not subject to configuration drifts. This enables us to ensure compliance with your governance at all times.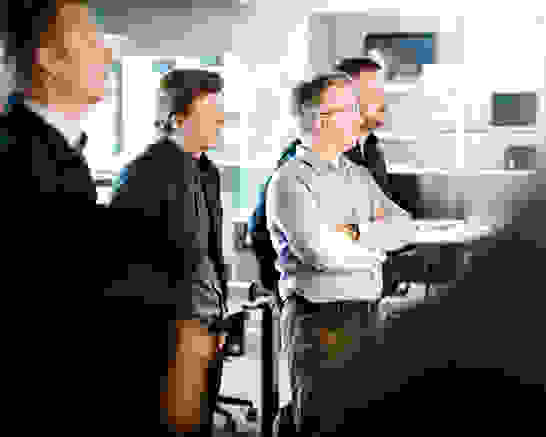 DevOps for M365
While mechanisms such as IaC are common in Azure data centers, they are not yet widely used in Microsoft 365 applications. By using products such as Simeon Cloud, we can ensure the traceability of changes across all Microsoft 365 staging environments, making an important contribution to the sustainable development of your platform.

Security guaranteed
As well as being Microsoft-certified, our specialists are also always up-to-date when it comes to security – regardless of the manufacturer. All our architecture experts are CCSP (Certified Cloud Security Professional ISC2) certified. This ensures that your systems are always designed securely.

The cloud drives innovation, increases efficiency and boosts competitiveness in companies. How? Learn more in our cloud operations whitepaper.
Contact
Do not hesitate to contact me.
Roman Feierabend
Business Unit Lead - Cloud Services
Eidg. dipl. Informatiker, Executive MBA