Hybrid Work - what to do in an Emergency?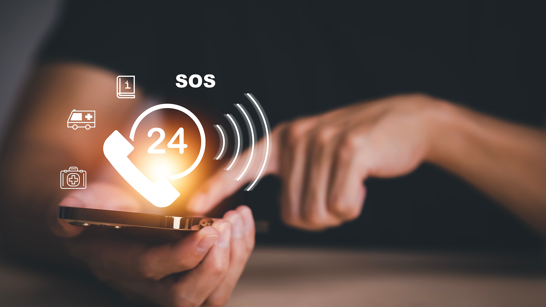 The legal basis for occupational safety and health protection in Switzerland currently does not specify any requirements with regard to company telephony in an emergency. In other words, there are no regulations for companies on which specifications corporate telephony must comply with in order to be able to act correctly in an emergency. Specific regulations require Internet telephony (VoIP) providers to provide their customers with access to emergency services. In this context, static emergency routing is based on the address of the primary location specified in the customer contract. However, this routing does not provide routing of emergency calls and location identification of users who are not at the main location.
Emergency Telephony at different Offices and in the Home Office
In a normal Microsoft Teams call, no location information is transmitted. However, in calls to emergency numbers, such as the general emergency number «112», Microsoft Teams forwards location information to the relevant emergency organization. Previously, Microsoft Teams only offered static emergency routing. This means that until now, the location information for each user was static. Usually, the main address of the office is stored. Recently, dynamic emergency routing (location-based dynamic emergency call routing) can be configured in Microsoft Teams. In this case, the location information of the user is automatically adjusted to his actual location. This means that it is recognized whether the user is in the home office or in another office.
The dynamic routing is based on the configuration of different emergency addresses in Microsoft Teams using a unique address assignment via the Housekey. The Housekey is a unique building identifier in Switzerland and can be found for example in the Open Data Portal of the Swiss Post. This value must be added to your Microsoft Teams emergency address in the HNS (House Number Suffix) attribute. This ensures that the address information is transmitted in case of an emergency call and that the emergency organization is dispatched to the correct address
Configuration of Emergency Call Routing
The configuration of the emergency routing must be executed by experts and adapted to the respective telephony provider. This is important because there are differences in the transmission of status information from one telephony provider to another, which must be taken into account during configuration.
Do you have questions about the implementation of Microsoft Teams Collaboration and Communication solutions? Do you want to replace your old telephone system and need help with the configuration, setup or operation of Microsoft solutions? Contact us for a no obligation consultation.
Get in touch with me.
Eckart Henning Potratz
Business Consultant
Master in Electrical Engineering