Partner of the Year 2020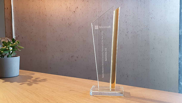 Microsoft Switzerland has presented the highly coveted Partner of the Year Award 2020. This year, the award was presented virtually via video stream from the headquarters in Wallisellen. isolutions is very pleased to receive the award in the category «Modern Work & Security». It shows that we deliver high-quality, secure and valuable customer solutions in the area of security, even in the perception of Microsoft. It is becoming increasingly apparent that the complexity of the modern workplace in terms of security requirements is constantly growing in these challenging times. Cyber attacks are becoming more frequent and the relevance of the topic of security, e.g. for remote workers, has risen sharply.

For this reason, we rely on a dedicated security team for complex customer projects. Our thanks for the award therefore go first and foremost to the great team responsible for this extraordinary achievement. With full commitment, passion and quality at the highest level, our employees support numerous customers and create secure working environments. This award is an absolute milestone for isolutions. Invest in an isolutions Security Assessment and have your IT thoroughly checked for security gaps. These costs will be lower than repairing damage later on, which could even endanger the existence of your business.
With isolutions you are safe in your daily work! We are happy to support you.