Experiencing a Day with Microsoft Viva
That is why we would like to take you on a journey, dedicated to experiencing Microsoft Viva and a few of its greatest advantages. Based on specific use cases, we will show you a day in the life of a modern knowledge worker.
A day with Emma
Emma
Allow us to introduce Emma. She is a project manager, working for a company in the manufacturing industry and leading a small team of 10 people. Emma leverages Microsoft Viva throughout her working day for communication, knowledge management, learning and wellbeing.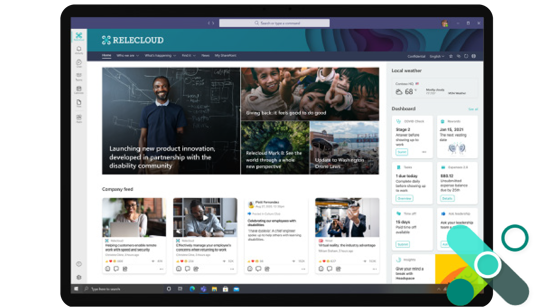 Connections
Provides a personalized and consolidated view of corporate communications in Microsoft Teams.
Reach every employee with role-based, targeted content and relevant messaging.
Promote company culture and employee engagement.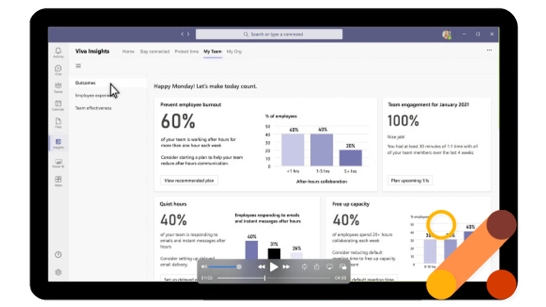 Insights
More productivity and healthier in the team, prevent burnout and promote personal development and coaching.
Complete tasks to create mental space and efficiently plan upcoming work days.
Schedule time for relaxation and reflection on emotions.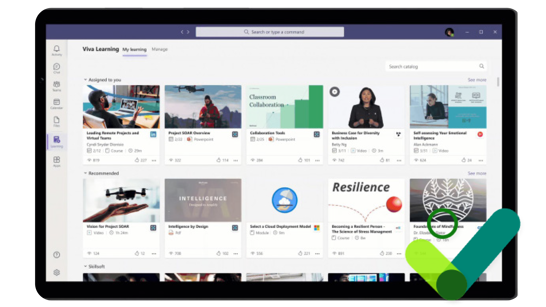 Learning
Centralized learning sources and content, and seamless integration with teams.
Easily recommend content, send reminders, track and share awards with the team.
No more jumping back and forth between different apps and websites.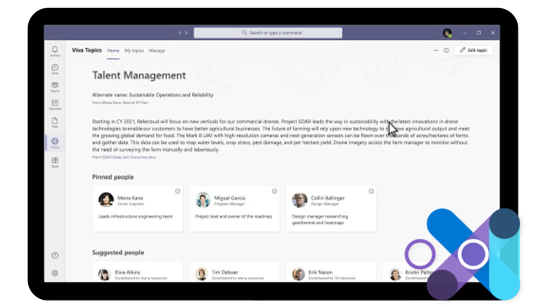 Topics
Easily find knowledge and experts on a topic within the organization without wasting time.
Consolidated overview of all resources on a specific topic such as files, experts and related topics.
Time saving thanks to the automatically displayed information.
Support isolutions
At isolutions, we have proven competences in Change Management and User Adoption supporting customers in all types of industries during technical implementations. With this experience, we are the right partner for you to embark on this journey and support you in the introduction of Microsoft Viva as your next level employee experience.
As Viva is an open platform and can be customized depending on specific needs, we are also happy to support you in tailoring the platform to your company environment. As the No 1 Microsoft partner in Switzerland, we are in close contact with Microsoft and we will keep you updated about Microsoft Viva.